It's known that it came in with the group that was present at the trial, because he couldn't have had it in the prison, which casts suspicion on his defense team, or eventually someone from the Embassy; at any rate, someone who had access to Praljak before he entered the courtroom
Florence Hartmann, Express, 19 April 2019, p. 42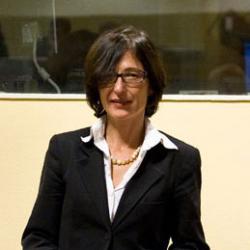 Florence Hartmann is no stranger to controversy, to unethical behavior, to criminal activity.  At the apogee of her career at the International Criminal Tribunal for the former Yugoslavia (ICTY), she was the mouthpiece and spinmeister for the Office of the Prosecution (OTP), and in particular, Madam Carla Del Ponte, the then Prosecutor. Much to her surprise (hubris can be blinding) she was prosecuted by the very same office for which she worked. She crossed the line by disclosing classified information. Convicted, Hartmann was sentenced to pay a fine of €7,000.1  The imposition of that fine, payable in two installments, was affirmed by the Appeals Chamber of the ICTY on 19 July 2011.   Hartmann failed to pay the fine, despite several notices from the Registrar.  On 16 November 2011, the Appeals Chamber converted the fine to a term of imprisonment of seven (7) days.  An inexcusably lenient slap on the wrist for someone who failed to surrender to serve her sentence for over four (4) years.  Hartmann was finally arrested on 24 March 2016.  She was granted early release on 29 March 2016, having served five (5) days in custody.  Ironically, in light of her failure to pay the fine of €7,000, the Registrar found that she was able to remunerate counsel amounting to €59,094.50, and thus was ineligible for legal aid.  That decision was affirmed by the President of the Mechanism in the Decision of of 4 July 2016.
One would think that having fallen from grace and having paid for recklessly transgressing, she would be have learned her lesson, she would have learned to tread lightly, she would have learned to stay out of the limelight – which, in no small measure, got her into trouble in the first place.
But being the has-been that never was (save for in her own imagination, misguidedly believing that she was très importante), the craving for relevance must be so consuming that she is willing to utter outrageous and malicious lies with reckless abandon. And it now seems without consequences – at least from the International Residual Mechanism for Criminal Tribunals (IRMCT), the residual judicial institution set up to deal with all matters related to the ICTY.
Hartmann gave an interview to Express – bizarrely titled Gotovina elegantly invited me to coffee. I told him yes, but under one condition. He never called back (see here).  Therein she outrageously accused General Slobodan Praljak's Defence team of having a hand in General Praljak's death; procuring the poison that General Praljak used in taking his life.
The person General Praljak most trusted and most counted on in representing him during the appeal, and who would have had the most contact with him was his lead counsel, Ms. Nika Pinter.  Hartmann is effectively claiming that Ms. Pinter killed her client.
I have written before on General Praljak's death (here, here, here ) and why, in my opinion, he preferred an honorable death of his own choosing as opposed to a dishonorable life of a wrongly convicted war criminal. One can disagree with the merits of his assessment of his conduct, his lack of criminal responsibility, and of his fervent belief that he was wrongly convicted, but there can be little doubt as to why General Praljak took his life.
But this is beside the point. What is relevant is that both the Dutch authorities and the UN/ICTY conducted extensive investigations. If there had been even a whiff of foul play or suggestion that Ms. Pinter or any member of the Defence team was involved in assisting General Praljak by procuring the poison and handing it to him on the morning of the appeal judgment hearing, it would have been exposed. Especially if, as Hartmann's claims, "It's known that it came in with the group that was present at the trial."
If Hartmann has such "known" knowledge, why has she not come forward?  Who knows this? What exactly do they know? What proof does she have? Rhetorical questions abound, but why bother – there is no evidence that Hartmann contacted the responsible authorities to alert them of the "known" information she possessed.
Hartmann felt no compunction about accusing members of General Praljak's Defence team with murder. No surprise. A leopard does not change its spots.  Or perhaps more apropos, a dead skunk still stinks.
But what of the IRMCT? Does it not have some duty intervene, to take action, to take some measures against Hartmann, or at a minimum to set the record straight and denounce these unsubstantiated, unsound, untruthful, accusations against General Praljak's court-approved and court-financed Defence.  After all the IRMCT and its predecessors have never been shy about polishing and defending their own reputations.
When Hartmann's interview was widely covered in the Croatian media, Ms. Pinter brought the matter to the IRMCT's attention (here), hoping that it would intervene – in some way:
[Hartmann's] deceitful and slanderous allegations are calling into question my integrity, my professionalism, and my character. And despite what I may say or do, unless these accusations are put to rest by the MICT, the stench emanating from Ms. Hartmann's allegations against me will not recede.
Ms. Hartmann is entitled to her opinions, misguided and vacuous as they may be. She is not entitled, however, to insinuate that ICTY Counsel appointed to represent Gen. Praljak (with or without coordination and facilitation by the Croatian Embassy) effectively acted criminally by assisting Gen. Praljak in his suicide.
While it is the Croatian Government's responsibility to act in addressing Ms. Hartmann's accusations against Croatian Embassy staff in The Hague, it is, in my opinion, that it is also the MICT's responsibility to investigate and address Ms. Hartmann's allegations against Gen. Praljak's defence team and others. Her remarks, beyond cavil, bring the ICTY/MICT into disrepute.
Aside from the damage Hartmann is causing to Ms. Pinter and the rest of General Praljak's Defence team, is she not also bringing the ICTY/IRMCT into disrepute?  But also, does not the ICTY/IRMCT have an obligation to protect the integrity of Defence Counsel when wrongly accused of criminal activity during the course of their court-appointed work?  In my mind, the answer is a simple yes. In IRMCT's mind (here), the answer is a resounding no:
In your letter, you suggest that the International Residual Mechanism for Criminal Tribunals ("Mechanism") has a responsibility to investigate and address the comments. However, the Mechanism has no available procedure or remedy to sanction such conduct, distasteful as it may be, particularly as Ms. Hartmann is currently not a staff member of the ICTY or the Mechanism and her statements relate to events which occurred long after she has ceased to be a staff member. I hope that you understand the inability of the Mechanism to pursue this matter further.
I wonder if I were to disclose confidential information form past cases whether IRMCT would take the same position? I wonder if Hartmann accused the IRMCT President of assisting General Praljak in poisoning himself, whether the IRMCT Registrar would do nothing? I suspect the response would be fast, furious and harsh.  Likewise, I seriously doubt that no action would be taken if the recipient of Hartmann's vile accusation was the Prosecutor.
IRMCT's excuse for inaction is as lame as it is scandalous. But then, why should anyone be surprised?  After all, it is merely the Defence that is being maligned and slandered.
About Author